QUINTAPOINT Pen Needles
QUINTAPOINT Pen Needles exceed the highest standards of quality and comfort.
Triple Bevel Tip
QUINTAPOINT triple bevel needles feature a new and improved needle tip providing a low penetration force, making it one of the most comfortable pen needles.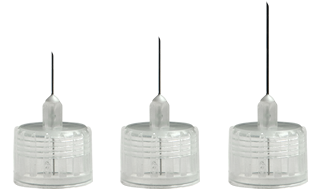 Maxflow™ Technology
Maxflow™ extra thin needle wall technology is used in all QUINTAPONT pen needles to maximize the drug flow rate resulting in reduced injection time.
High Grade Silicone Coating
All QUINTAPOINT pen needles surfaces are treated with high grade silicone for maximum comfort.
Anti-Coring
A process that removes any needle burrs or debris, which results in a clean piercing.
Electro Polished
All QUINTAPOINT pen needles are electro polished to eliminate any imperfections providing smooth and comfortable injections.
QUINTAPOINT pen needles are compatible with most diabetes pens sold in the US
and have been tested in accordance with the international standards for connectivity and dose accuracy. If you do not see your pen listed please contact us.
Want to learn more about our products?